PopSockets
The coolest trendiest accessory for your Smartphone that you can customise and make your phone standout from the crowd.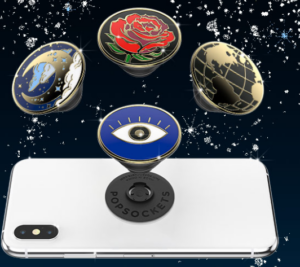 What are PopSockets? Simply put, PopSockets make your phone easier to grip. They attach to the back of cellphones or tablets, and they expand and collapse, letting the user hold the phone securely for texting, calling, surfing, selfies and looking at photos.
NEW VARIATIONS JUST ADDED! NEW PopSockets Single Phone Grip & Stand PopSocket Universal Phone Holder #Soket #PopSockets
Discover our Best offers POPular POP sockets #popsocket3d #popsockets #popsocketcustom #popsocketkpop #phoneaccessories #phonecover
To see more or order your PopSockets click here
1. Use it as a media stand: PopSockets make amazing stands. You can 'pop' them for easy use as media stand to watch videos, take group photos on self-timer or even use your phone as an alarm clock by the bedside.
2. Easy grip while running: One common question among people who run is, 'how to carry your phone while running?' as it can easily slip out of your hand. PopSockets make holding your phone easier while you are doing various activities like running. You can even use a pop-clip and mount your phone on your bicycle, treadmill or anywhere else.
3. Video calls: You can easily mount your phone on your laptop while on a video call, allowing you to go hands-free so that you can multi-task by continuing to work on your laptop while you talk. You can also use the stand so that you don't have to hold it.
4. Using a phone on/ near wet surfaces: Keeping your phone near/ on wet surfaces is a big no-no as water can cause considerable damage to your phone. Pop sockets are made out of polycarbonate, TPU and polyurethane making them washable, hence, you can easily keep your phone on wet surfaces like by the sink, floor or the kitchen counter without it actually getting wet.
5. Use it as a media grip: PopSockets make great grips, making activities like taking one-handed selfie, talking on the phone and texting much easier.
6. Earphone management system: You can wrap your earphones/ earbuds around your PopSockets to keep them in one place and tangle-free.
7. Grips for larger devices: PopSockets make holding large devices such as tablets and e-readers easy, comfortable and secure. You can also use them for smaller devices such as GoPros.
8. Pass the phone: If you want to pass your phone to someone on the other side of the table, with a PopSocket your phone will easily slide across the table without you having to get up.
9. Gaming: You can turn your phone/ tablet into a joystick by attaching two PopSockets to the back of it.
10. Just play with it: PopSockets are addictive! You cannot stop playing with them, popping and un-popping them. They are great stress busters and fun to fiddle with. Your kids will love them too!
Customize Your PopSocket
The only way to create a custom PopSocket is through the PopSocket website. From here, you can upload images from your device, or import something from your Instagram. You can then pick the colors of the base, as well as the accordion portion of the grip.