Shown below are some of the offers that were available from last year:

Online Stores Expected To Take Part In The 2019 Black Friday Sales



Stores identified with this coupon are flagged up in the virtual shopping mall and are shown in the below list. More stores will be added closer to the event.
Although the 4th Friday in November is the actual day, many stores start offering their reduced sales prices on a range of products earlier than this. Our advice is to visit the store to check out the latest and spot the item or items you are thinking of purchasing and keep checking back as the stores will be changing products and prices leading up to the Black Friday Sales. See the list below for known stores that are flagged up as it becomes known.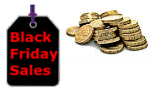 These are just some of the stores known to be taking part in November Black Friday Sales Event in November 2020. Check out the individual stores pages for more details. We would expect the same and more for 2021.